Size and Configurations
Height 6'-8" only Width 6'-0" and 8'-0". Only available as a Full-lite application
Finish and Color Options
Standard finish on all of Neuma's Patio Doors are the smooth white and unstained
Stained Woodgrain
Neuma customers can have their patio doors customized with the following pre-finished combinations. There is an additional 8-10 week turnaround time on all orders.  This option saves time and money by eliminating the need for finishing on-site. * The smooth white is not a finished face.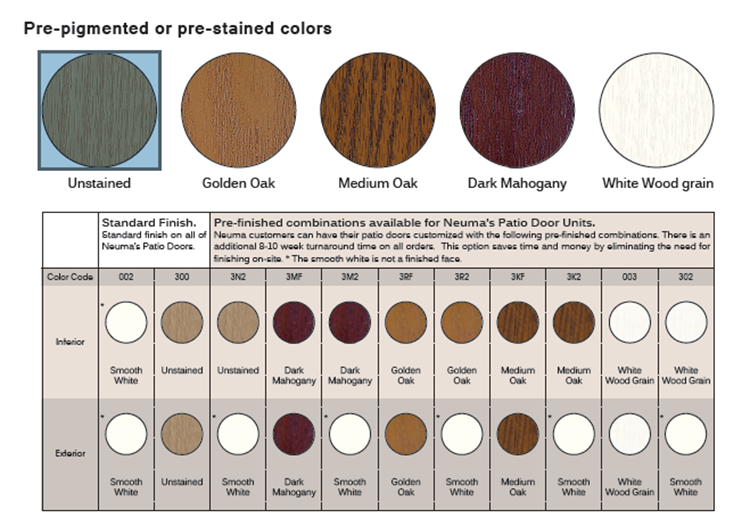 Painted
Neuma customers can have their patio doors customized with our standard paint finishes. The paint finish program is only applicable to smooth white doors and includes the painted finish on both the interior and exterior sides of the door. Paint finish on only one side of the door or a paint color other than one of the standard colors of the door is a special order and may be subject to a minimum order quantity. There is an additional 2 week turnaround time for all painted finish orders. This option saves time and money by eliminating the need for finishing on site.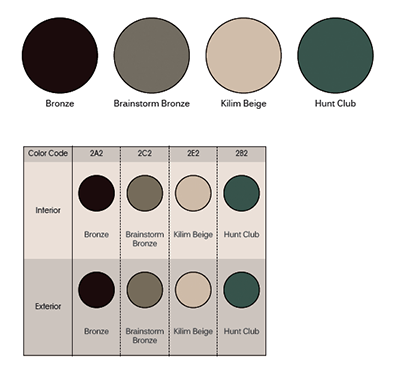 The paint finishes are Sherwin Williams paint and contain solar reflective pigments that protect the door from excessive heat absorption
Glass Options
Standard Insulated Glass -

The insulating effect of your doors has a direct impact on how your rooms feel. Our glazing options provide not only a beautiful entry, but also a reliable barrier against the heat and damaging rays of the hot sun. Each double pane LoE³ glass option provides Argon gas filled insulation to prevent the transfer of heat, keeping heat in during the winter and out during the summer.
Available LoE³ glass options are designed to reflect ultraviolet light, not only keeping interiors cooler or warmer, but also protecting interior furnishings from fading. Warm edge spacers help to keep the panes at the correct distance apart while reducing heat flow and preventing condensation.

Standard LoE³ 366 glass, Ultimate performance glass

An unprecedented 3 layers of silver and Argon gas fill results in a clear coating that blocks the solar heat gain, reflects heat and lets the light stream in giving you the ideal balance of solar control and high visibility.  LoE³ 366 is also the perfect choice for cold weather climates, helping to keep higher interior glass temperatures in cold weather, dramatically improving any thermal discomfort from the cold outside air.

Optional LoE³ 340 glass, Glare back at the sun

The solution to solar glare and thermal discomfort starts with LoE³ 340 glass with Argon gas fill. Uncontrolled sunlight can be an offender by bringing thermal discomfort and creating visual glare. LoE³ 340 glass provides a great combination of aesthetic appeal along with energy savings and indoor comfort.

Optional Insulated Laminated Impact Glass

Laminated glazing offers the greatest protection from life's storms. Neuma Doors impact glazing gives you and your home the best level of security and assurance.  During windstorms and hurricanes, wind borne wreckage can impact windows, with gusting, pervasive winds to follow.  The broken glass fragments adhere to the interlayer and maintain the home's defense from the wind, rain and forced entry.  Laminated impact glass adds security and cannot be cut from one side only.

Grilles between Glass (GBG)

Flat white ¾" grilles between two layers of glass are available in 10, 12, 15 and 18 standard lite patterns or can be customized by special order.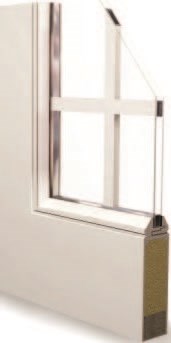 Simulated Divided Lites (SDL)

Simulated divided lites give you the classic look and feel of a true divided lite door. 100% composite SDL bars are fixed directly to the glass and can be ordered with or without Grilles between the Glass. 7/8" SDL bars are available for 5/8", 3/4" and 1" glaze options in both smooth and woodgrain textures in finishes to match the door's finish.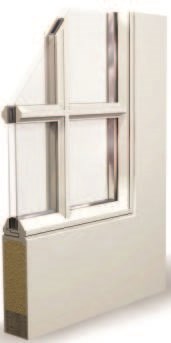 Lock Options
Single Lock
Precision-engineered entry spring latch and dead bolt lock design standard on Neuma's 6'8" and 6'11" door units.
Multi Point Lock
Stainless steel strike plates provide excellent corrosion resistance, enhanced performance, smooth operation, and the best security value.
Hardware Options
Royal Handleset
Powder coated white, dark brown, gold brass, and satin nickel
Tiffany Handleset
Powder coated white, dark brown, gold brass, satin nickel, and chrome
Color Options
Royal options: Powder coated white, dark brown, gold brass, satin nickel
Tiffany options: Powder coated white, dark brown, gold brass, satin nickel, and chrome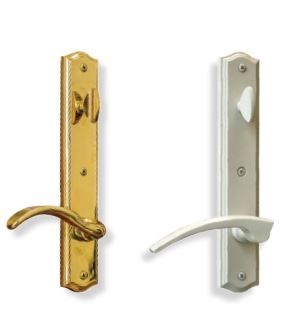 Screen Options
Our retractable screens can be used in most of our patio door Systems: Inswing, Outswing, Center Hinged and Gliding. Available for single and double door units. Screentrack with individual lock plunger to open each door with ease. No magnets.
Screen doors provide the perfect solution when you want maximum airflow and light infiltration while keeping bugs out of your home.  On temperate days, screen doors allow you to enjoy the outdoor weather without the hassle of pesky insects. Enjoy the sunlight, the summer breeze, and the sounds of nature of your outside space while maintaining an indoor space free of unwelcome critters. Our classic screen door sits in its own track and slides out of the way when the door is in use. 
The screen can be closed when the main door is open to provide airflow and passage of light while deterring outdoor pests.  When pushed aside, the screen door sits in front of the stationary panel to allow uninhibited use of the main door. For a low-profile, modern look try our vanishing screen. 
When engaged, the screen covers the door opening to allow fresh air and sunlight into your home.  When you are ready to disengage the screen, it retracts completely, rolling into its canister. 
The vanishing screen is perfect if you want the flexibility of a screen door without the commitment to the look of a more traditional style screen door.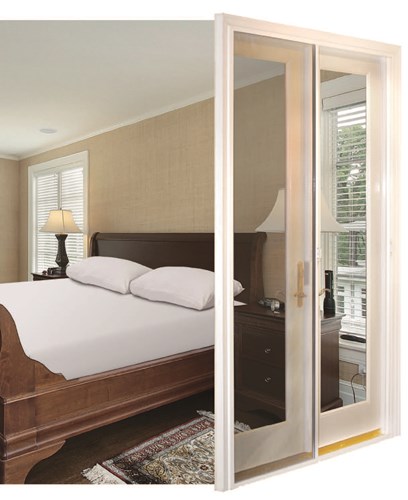 Need More Info?
We are here to help you create the door design you have always dreamed of. If you have any questions about Neuma Doors, please fill out the contact form and we will be happy to assist you.