Hardware Options
Single Point Lock Systems are standard on 6'8" and 6'11" doors. Multi Point Lock Systems are standard on 7'10" and 8'0" doors. White Sills are standard on all doors. Handle Sets are available in your choice of color. Multi Point Lock Systems are optional on 6'-8" and 6'-11" doors. HPVD (High Physical Vapor Deposition) coated handle sets are available in Gold Brass or Satin Nickel colors. The HPVD coating provides additional protection in harsh environments. HPVD coating requires proper maintenance. See maintenance guide for proper care instructions. Straight exterior handle in Satin Nickel finish set is available as an option (straight handle set not compatible with blinds between glass options)
Handleset Color Options
The standard handle set choices are gold brass, satin nickel, dark brown, and white.

Lock Options
Single Point Lock Systems are standard on 6'8" and 6'11" doors. Multi-Point Lock Systems are standard on 7'6" & 8'0" doors. Handle Sets are available in your choice of color and style.
Single Lock
Standard Single 6'8" & 6'11"
Precision-engineered entry spring latch and deadbolt lock design standard on Neuma's 6'8" and 6'11" door units.

Multi-Point Lock
Stainless steel strike plates provide excellent corrosion resistance, enhanced performance, smooth operation, and the best security value.
*Muti-lock plate and strike plates are available in gold brass and satin nickel finishes only.
Standard Multi Point Lock System for 7'6" & 8'0"
Neuma's 7'6" & 8'0" doors come standard with our multi-point lock system. Unique to our 7'6" & 8'0" hinged door units, it features a 3 hook lock and keeper design to maintain the highest level of security.

Optional Multi Point Lock System for 6'8" & 6'11"
Stainless steel strike plates provide excellent corrosion resistance, enhanced performance, smooth operation, and the best security value.

Brickmold Options
Brickmold fills the gap between the exterior facing of a building and the doorframe and serves as a visual border between the masonry of the home and the door. Available in a variety of profiles to complement any architectural style, brickmold adds charm and curb appeal to the home.
Whether for new construction or renovation, Neuma Doors allows you to customize your new door by selecting one of our brickmold options. Neuma Doors offers brickmold in unstained woodgrain or smooth white texture. Our brickmold is both stainable and paintable, allowing you to match your new brickmold with existing shutters, siding, or trim on your home and make a stunning impact.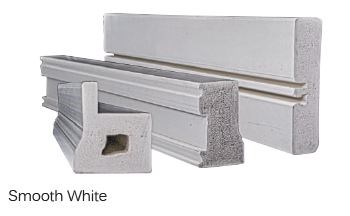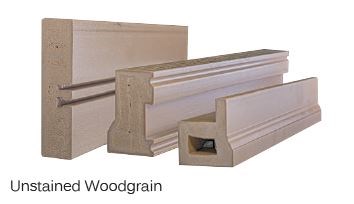 Screen Options
Screen doors provide the perfect solution when you want maximum airflow and light infiltration while keeping bugs out of your home. On temperate days, screen doors allow you to enjoy the outdoor weather without the hassle of pesky insects. Enjoy the sunlight, the summer breeze, and the sounds of nature of your outside space while maintaining an indoor space free of unwelcome critters.
Our classic screen door sits on its own track and slides out of the way when the door is in use. The screen can be closed when the main door is open to provide airflow and passage of light while deterring outdoor pests. When pushed aside, the screen door sits in front of the stationary panel to allow uninhibited use of the main door.
Low-profile vanishing screen available for most hinged door units. When engaged, the screen covers the door opening to allow fresh air and sunlight into your home. When you are ready to disengage the screen, it retracts completely, rolling into its canister.
The vanishing screen is available for single and double door units and includes an individual lock plunger (no magnets) to open each door with ease.
With modern styling, the vanishing screen is perfect if you want the flexibility of a screen door without the commitment to the look of a more traditional style screen door.
Need More Info?
We are here to help you create the door design you have always dreamed of. If you have any questions about Neuma Doors, please fill out the contact form and we will be happy to assist you.