Energy Efficient
A wide range of glass options provide you with a high level of comfort and energy savings year-round. The Neuma Doors Folding Door System comes standard with LoE3 366 glass for optimal energy efficiency.
Built to last
Our Impact Rated Glass is designed specifically to meet strict requirements for impact, air, water, and structural wind loads. The structural performance and durable hardware of all systems ensure that you can enjoy your folding patio door for years to come
Security
Multipoint locking systems are standard on all folding door systems to give you security and peace of mind. Top and bottom flush bolts also come standard on the folding door system for added strength and security
Design Features
Panels feature composite edging and Hydroshield Technology for advanced moisture protection and maximum durability to withstand the elements. Durable fiberglass skin will not rust, dent, split or rot, ensuring that your family can enjoy your folding door for years to come. For your convenience, the folding door system features a "daily door," a single hinged unit that can be used for daily entry without having to activate all of the panels in the unit. Smooth white interior and exterior finish can be painted to fit any palette and match any style.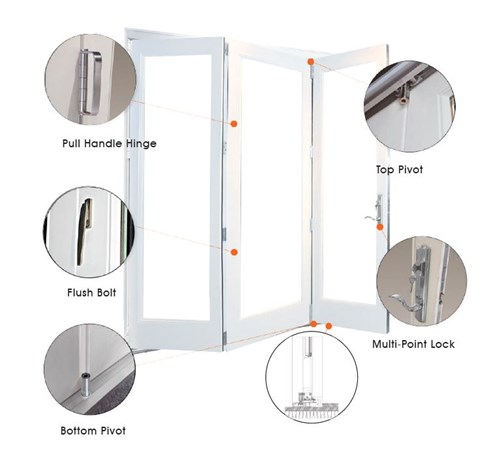 Need More Info?
We are here to help you create the door design you have always dreamed of. If you have any questions about Neuma Doors, please fill out the contact form and we will be happy to assist you.