Size and Configuration Options
Designed for openings up to 8'10" wide by 8' tall. Only available in a full-lite configuration.
Impact Options
Complete fiberglass multi-slide door system with composite frame and integrated Hydroshield Technology for advanced weather protection.
High performance composite jambs prevent warping, splitting and rotting.
High-Impact fiberglass door skins resist corrosion, rotting or cracking.
Waterproof composite stiles and rails prevent water absorption
Finish and Color Options
Smooth White
The standard finish on all of Neuma's Bypass Gliding Doors is smooth white.
Paint Options
Bronze
Brainstorm Bronze
Kilim Beige
Black

Neuma customers can have their patio doors customized with our standard paint finishes. The paint finish program is only applicable to smooth white doors and includes the painted finish on both the interior and exterior sides of the door. Paint finish on only one side of the door or a paint color other than one of the standard colors of the door is a special order and may be subject to a minimum order quantity. There is an additional 2 week turnaround time for all painted finish orders. This option saves time and money by eliminating the need for finishing on site.
Stain Options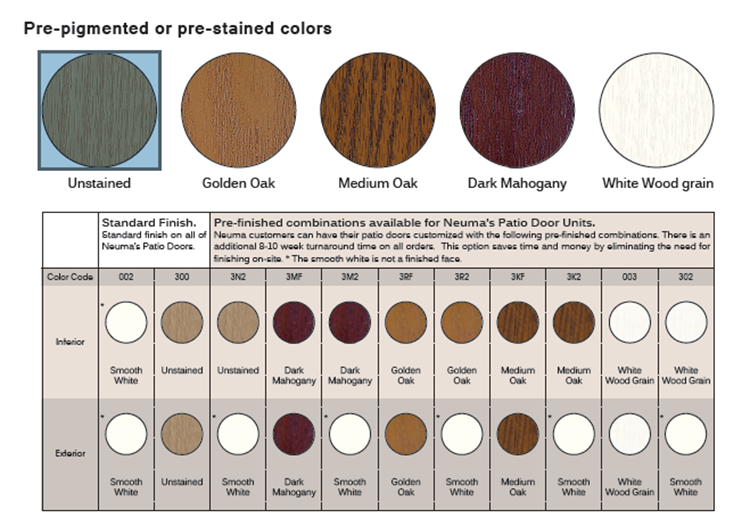 The paint finishes are Sherwin Williams paint and contain solar reflective pigments that protect the door from excessive heat absorption.
Glass Options
Neuma Bypass Gliding Patio Doors come standard with energy-efficient LoE³ 366 glass to keep your home protected from variations in outside temperature while maintaining light and visibility.  We also offer impact-rated glass options designed specifically to meet requirements for impact, air, water, and structural wind loads. The structural performance and hardware of all systems ensure that your family can delight in your bypass patio door for years to come
Hardware Options
Standard single point locks on all 6'8" and 6'11" height doors.
Standard multi-point locks on all 8'0' height doors.
White Sills are standard on all doors.
Handle Sets are available in your choice of color.
Multi-Point Lock option available for 6'-8" and 6'-11".
HPVD (High Physical Vapor Deposition) coated handle sets are available in Gold Brass or Satin Nickel colors. The HPVD coating provides additional protection in harsh environments. HPVD coating requires proper maintenance. See the maintenance guide for proper care instructions. Straight exterior handle in Satin Nickel finish set is available as an option (straight handle set not compatible with blinds between glass options
Handleset Color Options
Standard handle set color options are gold brass, satin nickel, dark brown, and white.
Straight handle set available in satin nickel only.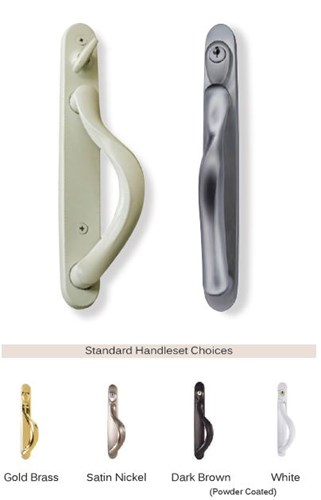 Need More Info?
We are here to help you create the door design you have always dreamed of. If you have any questions about Neuma Doors, please fill out the contact form and we will be happy to assist you.